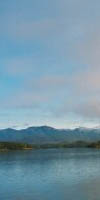 POLICY STREAM REPORT
KIMBERLY LINKOUS BROWN - COORDINATOR
MORGEN SMITH - RESEARCH ASSISTANT
Introduction
Numerous factors figure into the current questions regarding ecosystem management/use compatibility in British Columbia. Most important are:
ongoing treaty negotiations between the First Nations peoples and the federal/provincial governments
the Local Resource Management Plans presently under discussion.
These factors are addressed in the policy stream report as well as the ongoing debates regarding the consideration of local ecological knowledge in determining ecosystem management/use. A brief history of forest use in British Columbia is presented as is a discussion of timber allocation policy past and present. Data for this segment of the final report come from personal interviews, published/unpublished policy documents as well as archival and library research.
Select from the menu at the right or continue to The Resource